Plym Ramblers present a NEW walking book – "ON THE BEATEN TRACK 4"
An ideal gift for walkers and an excellent way of keeping fit and agile. The entire proceeds from this book will be donated to local charities.
The walks chosen for this book are a great selection of circular walks, all within 25 miles of Plymouth. They cover moorland, countryside and coastal areas and range between 3.4 and 8.6 miles. The description for each walk is accompanied by a sketch map with way points. At the start of each walk, we have given an idea of the conditions you are likely to encounter (e.g. muddy, steep etc), the distance involved, the time you are likely to take to complete the walk without stops.
The grade of the walk, which will be easy or medium. Easy describes a walk that is usually shorter and fairly level walking. Medium is usually a longer walk with variable gradients. However, none of the walks will present difficulty to reasonably fit walkers. In addition to this information are the location of toilets and refreshment places (if any) instructions on how to reach the start and the starting point grid reference. Please note that you should not rely on to lets or refreshment provision, always bring your own food and drink and be prepared.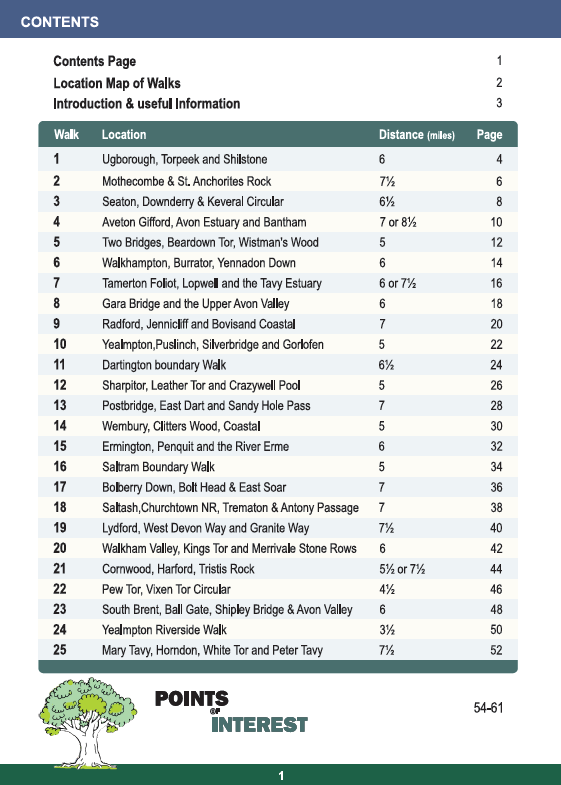 25 Walks all within 25 Miles of Plymouth…
Ugborough, Torpeek and Shilstone, 6 miles

Mothecombe & St. Anchorites Rock, 7.5 miles

Seaton, Downderry & Keveral Circular, 6.5 miles

Aveton Gifford, Avon Estuary and Bantham, 7 or 8.5 miles

Two Bridges, Beardown Tor, Wistman's Wood, 5 miles

Walkhampton, Burrator, Yennadon Down, 6 miles

Tamerton Foliot, Lopwell and the Tavy Estuary, 6 or 7 miles

Gara Bridge and the Upper Avon Valley, 6 miles

Radford, Jennicliff and Bovisand Coastal, 7 miles

Yealmpton, Puslinch, Silverbridge and Gorlofen, 5 miles

Dartington boundary Walk, 6.5 miles

Sharptor, Leather Tor and Crazywell Pool, 5 miles

Postbridge, East Dart and Sandy Hole Pass, 7 miles

Wembury, Clitters Wood, Coastal, 5 miles

Ermington, Penquit and the River Erme, 6 miles

Saltram Boundary Walk, 5 miles

Bolberry Down, Bolt Head & East Soar, 7 miles

Sahash, Churchtown NR, Trematon & Antony Passage, 7 miles

Lydford, West Devon Way and Granite Way, 7.5 miles

Walkham Valley, Kings Tor and Merrivale Stone Rows,6 miles

Cornwood, Harford, Tristis Rock, 5.5 or 7 miles

Pew Tor, Wixen Tor Circular, 4.5 miles

South Brent, Ball Gate, Shipley Bridge & Avon Valley, 6 miles

Yealmpton Riverside Walk, 3.5 miles

Mary Tavy, Horndon, White Tor and Peter Tavy, 7 miles
Buy your copy from the following outlets:-
AGE UK Plymouth Centres – Astor Drive Mount Gould and Memory Lane Plymstock
All Dame Hannah Rogers Charity shops in Plymouth, Saltash, Ivybridge and Newton Abbot, Church Road Pharmacy, Plymstock
St Lukes Charity shops in Saltash, Tavistock, Modbury, Plympton, Plymstock, Yealmpton, Drake Mall & Barbican
You can also order your copy of "On the Beaten Track 4"
by Sending a cheque for £7.50 (includes post and packing) payable to Plym Ramblers book account to:- PR Walk Book 33, Reddicliff Road. Plymstock Plymouth PL9 9NF
Category: Local Group News, Walk Books