Fond memories of Hooe Lake and Radford by Alison Hanson…
My great grandad, Caleb Samuel Carder (1875 – 1971) had an allotment on the hillside above Radford Quarry in Lower Saltram, on the left as you began downhill on the pot-holed gravel path just before what is now Kingfisher Quay. On the opposite side of the path another chap used to keep his daughter's horse. I remember her feeding the horse handfuls of yoghurt.
When I was 3 or 4 I used to visit him there and in his shed he would lift me up to look into the blackbird's nest to see the eggs or chicks. Every year the birds would nest in his shed, and he would sit in there taking a break from gardening, with his flask of tea. The birds never minded him at all; he was very in tune with nature, as many people were back then.
This photo of Caleb Samuel Carder was taken in the late 1960s, as he was walking back up the road from his allotment, no doubt with onions or something similar in the sack. It was taken for an article in the Evening Herald about Oreston's Oldest Man. He continued gardening until he died aged 95 in 1971. Interestingly, he was only about 4ft 8in tall.
One of his sons, my grandad, Jim Carder (1903 – 1999) also used to keep chickens, geese and bantams further down, by the waterfront. It is all overgrown now and you can't even get to what used to be the path. We used to walk down to Radford Cottages and visit my grandad's brother and his wife (another son of Caleb Snr) – Uncle Cal and  2. We used to walk down to Radford Cottages and visit my grandad's brother, Caleb (junior) and his wife Phyllis. They lived at no.1, Radford Cottages. As a child I was fascinated by the fact that their stairs were hidden away in a 'cupboard' and that they had an outside toilet. Uncle Cal kept the garden beautifully, full of veg and flowers. They moved from there in the 1980s; Aunty Phyl passed away a few years ago but Caleb is still with us and will be 98 later on in 2014!
Grandad and I would then turn right and pick up the path through the trees right beside the beach, for maybe 100yds or so, to go feed his chickens and geese in his  poultry run on the right, halfway along before Lake Cottage.I loved feeding them – he had a large number; the geese terrified me when I was small as they used to chase after us. I held all the chicks and collected all the eggs; on a couple of occasions, one of the cockerels bit at my thumb, slicing a chunk off it – very painful and I learnt to let go of the feed much more quickly in future! Then Grandad and I used to clamber down onto the shingle and chat to all the old men he knew there who were maintaining their boats. In those days there used to be at least 10 to 20 craft there, some of them just little old abandoned boats.
Grandad and I would sit in them and pretend to row with the oars. My first ever experience of a crab was on that beach. I was 4 years old and he found a plump green one to show me; I held it in my hand briefly and then panicked, throwing my hand upwards and sending the poor crab into the tree above, never to come back down! We used to go for a long walks all over Radford – round to the old wharf, back to the castle and down to the ruins, and into the old farm sheds that were there then.
The photo of my Grandad, Jim Carder, is taken by a lake in Scotland in the 1950s. He was brother to Caleb (junior). (In total, Caleb (senior) and his wife Eliza (Lugger) had 8 children). They were all born and bred in Oreston, and originally Jim and his father had worked in Radford Quarry. Eliza died in 1918 when baby Caleb was barely 2, and Jim 15 years old. Caleb (senior) had not long returned from the WW1 trenches by then.
This photo is from the 1950s I think, taken at the wedding of another family member. My grandad, Jim Carder is on the right of the back row, Caleb (junior) front right, Caleb (senior) front left, and with the 2 elder brothers Stan and Bill making up the group. You can see here just how short their patriarch was.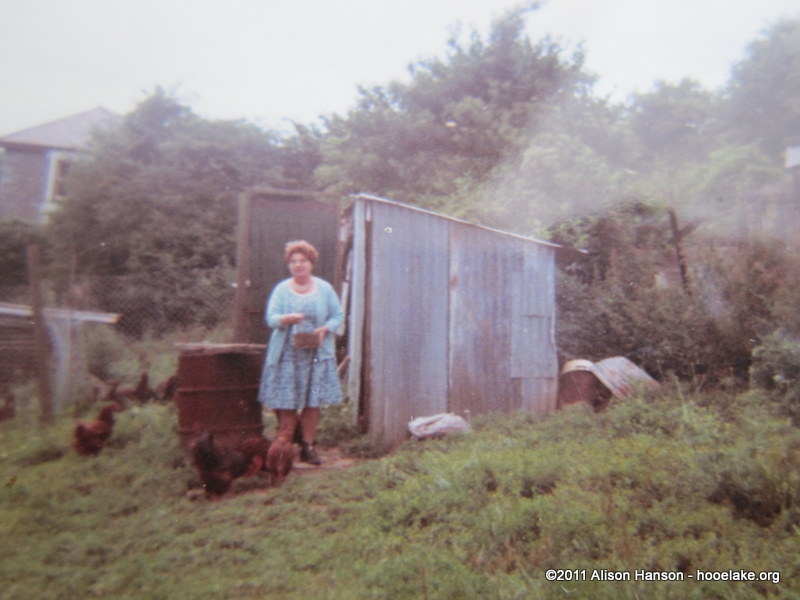 This photo is Caleb's (junior) wife Phyllis, taken in the 1960s possibly, feeding her husband's chickens (Caleb Carder jnr). In the background is Lake Cottage and Uncle Caleb informs me that the cottage in the trees to the right was Railway Cottage once inhabited by a Mrs Davis. The last occupant was Mr West who worked for the Oreston Timber Company. Apparently that patch of land was once "Mrs Hollins' Tea Gardens" in the 1920s, and there were swings there which you could pay to have a go on.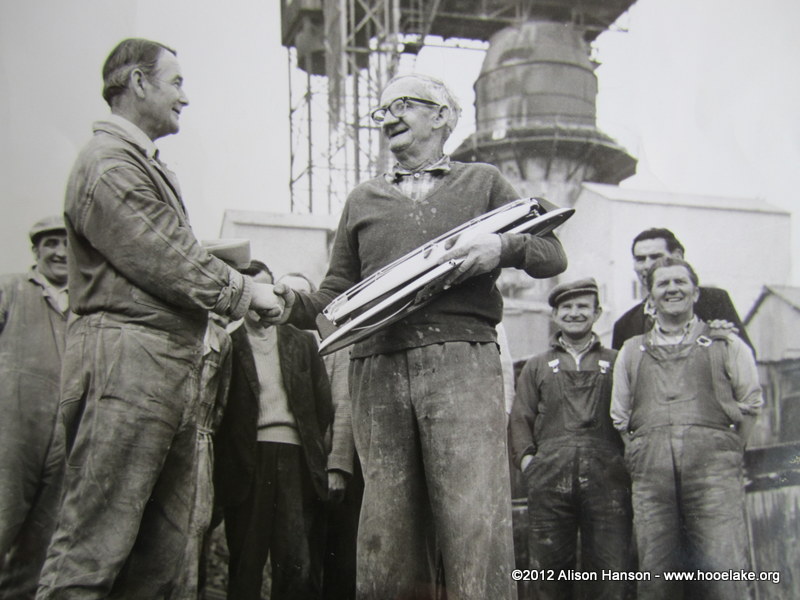 Caleb (junior) worked at Hooe Quarry and here he is 3rd from right with the cap on. This was the retirement presentation of the chap in the foreground; not sure exactly what present he has received, however it seems to be some sort of heater!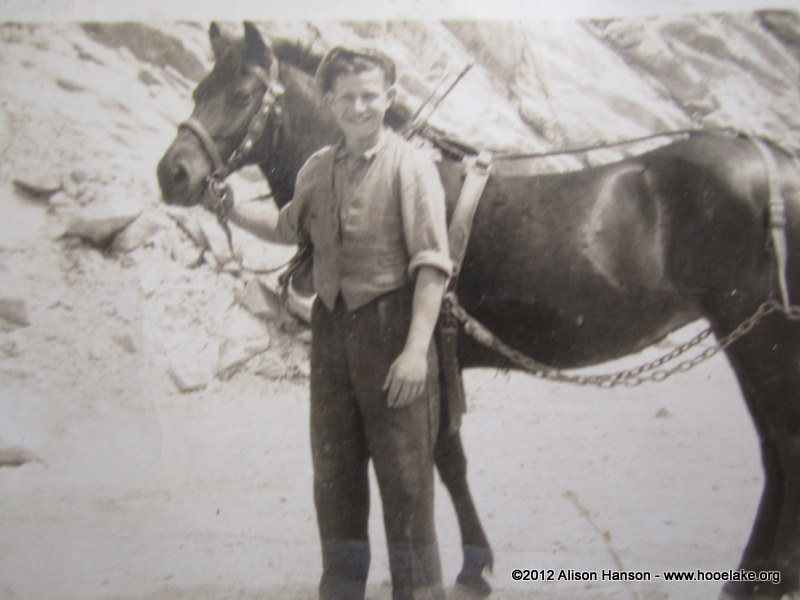 Here is Caleb (junior) as a teenager in the late 1920s working at Hooe Quarry; the horses were used to pull the carts full of quarried rock.

Caleb Jnr. with some kind of turbine or generator which he was in charge of operating. I guess this is late 1940s or 50s.
Category: History, Personal Accounts